Welcome to the website of OzHPV.
OzHPV is a collection of people in Australia, mainly recumbent cycle riders, who have a keen interest in human powered vehicles (HPVs). We conduct regular social rides as well as national events/rides and publish a regular newsletter.
OzHPV was established in 1997 as the Australian association for recumbent and human power enthusiasts. OzHPV is the Australian affiliate organisation of WHPVA, the World Human Power Vehicle Association which represents over 15 countries worldwide.
Join or renew membership to OzHPV - It's as low as $25 per year! Here's Membership Information
Why do we call our vehicles HPVs? Because:
in competitions we allow any form of human powered vehicle, including those that are not recognised by the UCI,
bicyclists are often not recumbent,
not all tricycles are necessarily recumbents,
not all recumbents are bicycles,
watercraft certainly aren't recumbent bicycles,
aircraft pilots are often recumbent, but they don't use their wheels often,
we encourage ingenuity, and the use of human power, without restriction.
(nothing in the short term)
Recent Events

Lake Hume Weekend
By Steve Nurse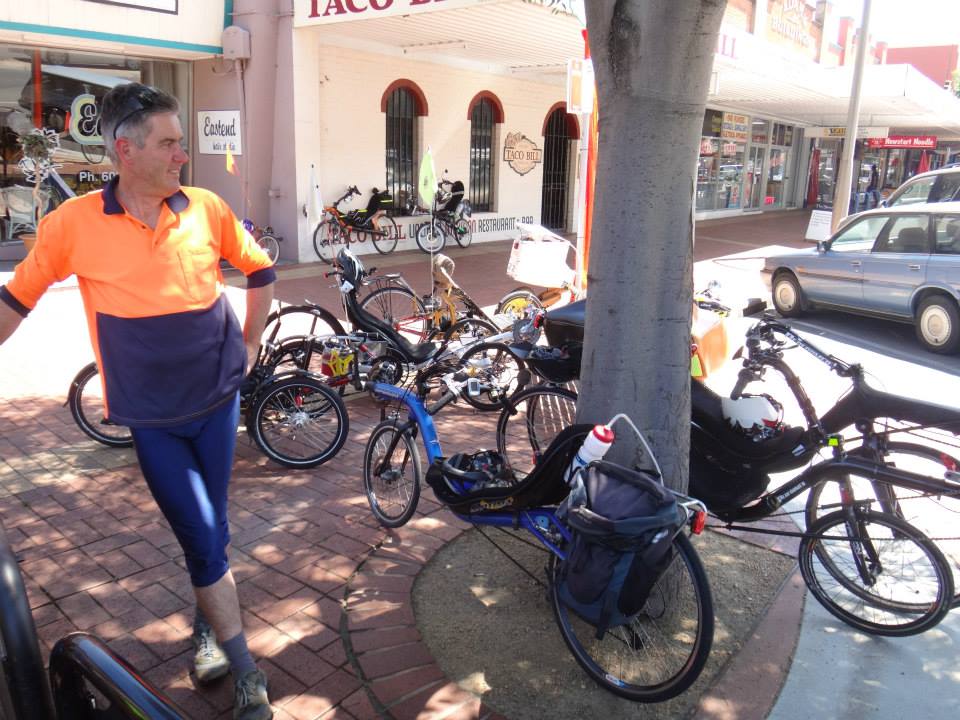 For a few days I have been back from Albury and Lake Hume, after a weekend spent up there riding my bike with fellow recumbenteers and attending the Ozhpv Annual General Meeting. I hadn't been going to go, but there was a prospiracy which made me! A few weeks before the event, I was retrenched from work, which brings with it "slightly more flexible attendance requirements", so I took the Friday off before the event, which coincided with the start of the Great Victorian Bike Ride in Albury. Of course, the GVBR completely dwarfs the OzHPV gathering, so I took an early train, hoping to avoid bike traffic on the train. As it happened, I did avoid the bike traffic, and saw and spoke to only a few early arrivees, taking their bikes up on the train.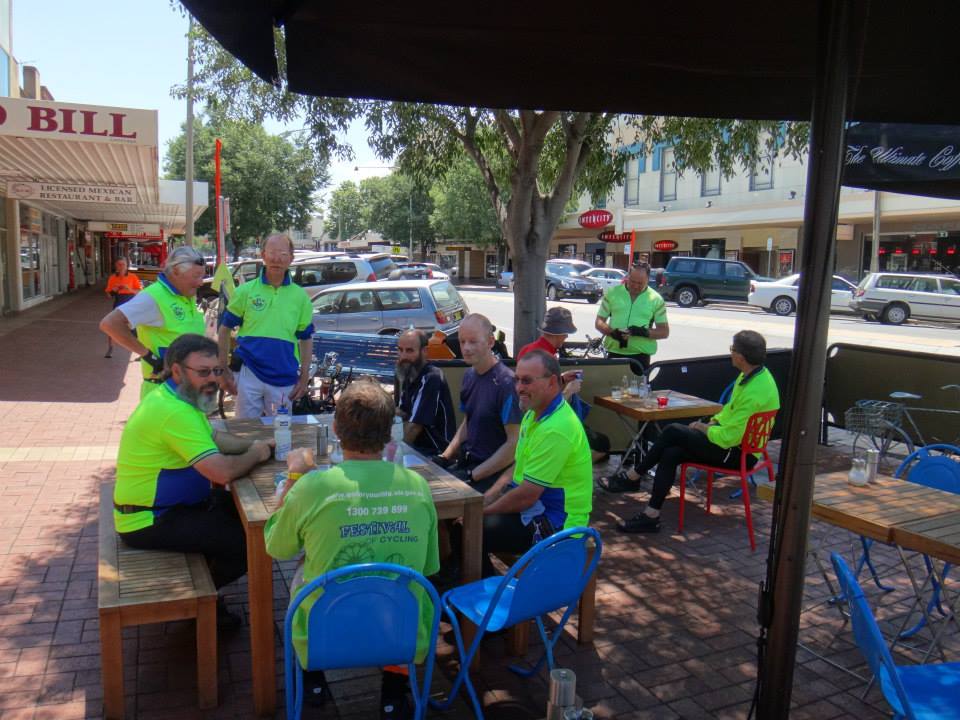 One of these was Anthony, who I'd chatted to on the way up. He is a teacher from Bendigo, had a big touring rig, and was setting out from Albury for a few days independent riding. His plan was to catch up with some of his pupils who were doing 1/2 of the GVBR, starting in Mansfield. With a bit of time to kill, I decided to ride out to Lake Hume and my camping ground with him. We parted ways at the Bellbridge turnoff but not before taking a few happy snaps.

After setting up camp just next to Graham Signiorini, Graham and I rode back in to Albury for the start of a ride organised by Lloyd Charter. A few of the Canberra mob had arrived and passed us by car on the way in, Duncan and Andrew stopping for a chat.

There was quite a big recumbent roll-up in Albury for the Friday ride, Lloyd and 3 of his triking mates, 4 from Canberra, 2 from Melbourne and 1 from Denmark! Michael was in Australia as part of a 2 year world tour, was staying with Pete Heal and had ridden most of the way from his home country.... We went most of the way round Albury on the bike tour, which was buzzing with cyclists in preparation for the Great Vic bike ride due to start in the town on Sunday. There was a 1k long encampment on the Murray full of bike riders, and we even saw the occasional recumbent.

Graham and I rode back to Hume village, I was slowing down by this stage but Graham pushed ahead quite quickly, waiting for me every now and then. I arrived at camp and waited for Graham to follow - and waited - and waited. Eventually he wheeled his bike in, and had come across some bindy-eye or other pestilent puncture promoting flora, and had 4 punctures and had fixed 3 of them. He worked on the extra puncture a bit later, eventually fixing it just before we were to head off the next morning.

After breakfast the next morning, I lathered on sunscreen, having copped a bit of sun the day before, and Graham and I headed out with Pete Heal and caught the rest of a recumbent mob across the river in Victoria. It was really nice riding on good undulating roads and we passed several groups of Albury upright cyclists off for their 60k or so constitutional Saturday rides. My bike is quite good at bombing down hills, and on a ride like this you get to compare its characteristics with other recumbents. It's nice to think its fast because its aerodynamic, but it could be that me and my bike are both heavy as well!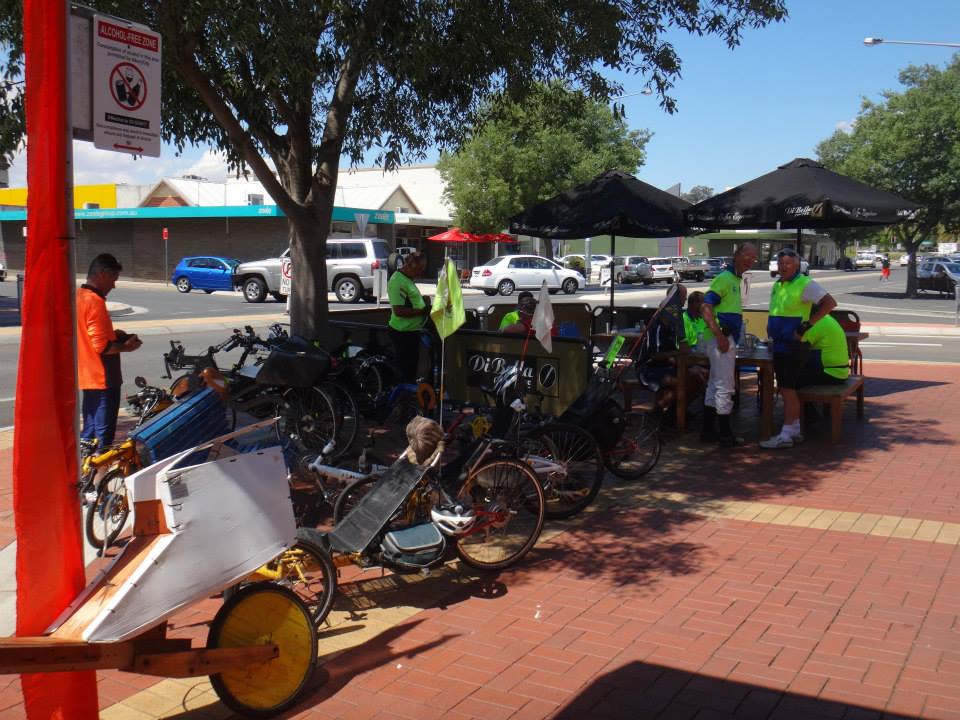 After a while we hit an unsealed section of the road which had all the evils on it, bumps, drifts of sand, corrugations and hills. Yes, I walked up some of it, this sort of road and my front wheel drive wooden bike being somewhat incompatible, the front wheel slipping and being slightly bothersome. Anyway, that road changed to bitumen again and the riding got smoother with great views over Lake Hume and its abundant birdlife towards Tallangatta.

Lunch in Tallangatta, and the Op-Shop was busy and the bakery crowded with motorbiking, recumbent biking, and road biking - daytrip mobs. Standing room only outside the bakery and I bought a plate at the Op - Shop and "The Branch Line, a History of the Wodonga-Tallangatta-Cudgewa Railway" by Lloyd Hughes at another shop.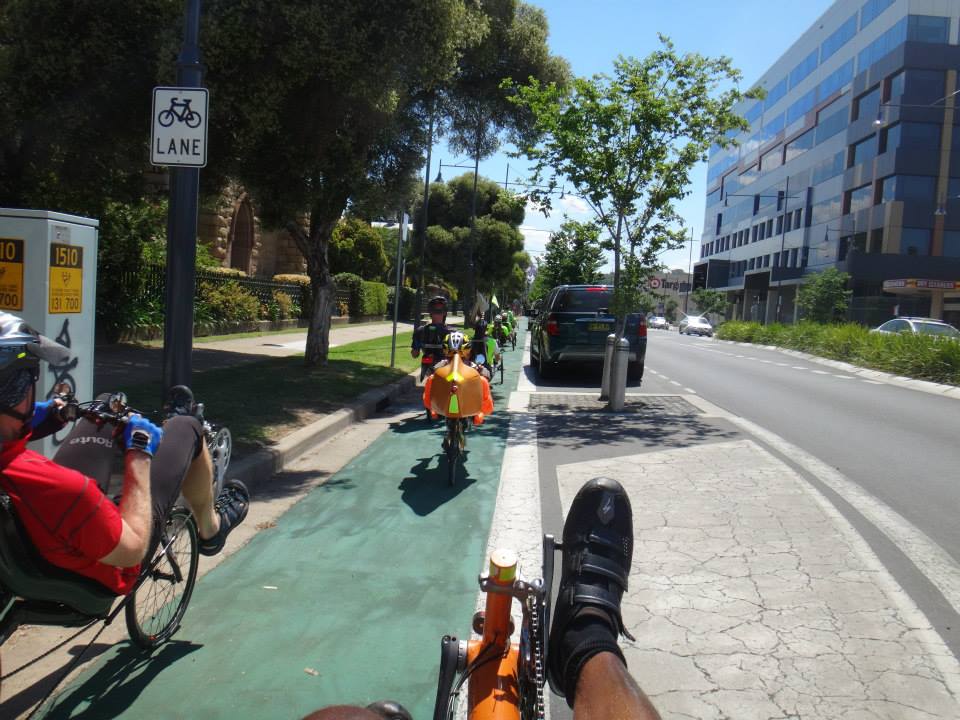 We went on the rail trail a lot of the way back and that was a bit hot and bumpy, Chris Curtis being jolted off and copping a gashed elbow at one point. We regrouped and refuelled in Ebden and from there it was a short ride across the Hume Dam back to the Caravan Park. The day's ride was only about 80k but a bit hot and demanding. A few of us had a swim, almost everyone had a sleep, and the OzHPV AGM was at 6pm. Up early the next morning to pack the tent and get on the 6:30 am train back to Melbourne. It was warm already at 5am when I started riding, and had plenty of time for the train.
2014 OzHPV Challenge – 27th & 28th September, 2104
By Steve Nurse.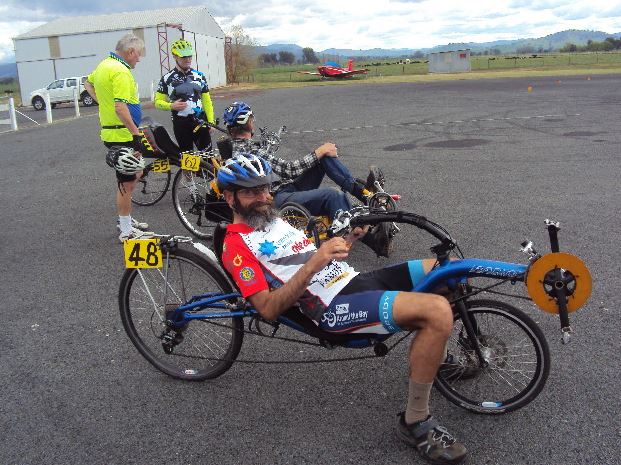 This year the OzHPV Challenge moved from Wodonga to Corryong in the Upper Murray in Northeast Victoria. Corryong is a nice, quiet town, well off the track and full of very friendly people. There is great quiet bike riding on the roads but beware the magpies! Thankfully helmets do a good job of preventing any actual injury, but George, myself and others were swooped.
Saturday's races were at Corryong Airport on AFL Grand Final day. We had great weather and ran the Criterium, Shopping, Runway Road and Sprint races. In the evening most of the crew went to one of the local pubs where Christine Nurse ran a trivia challenge. There was a birthday party at a neighbouring table, they had too much cake and offered us all a slice as they were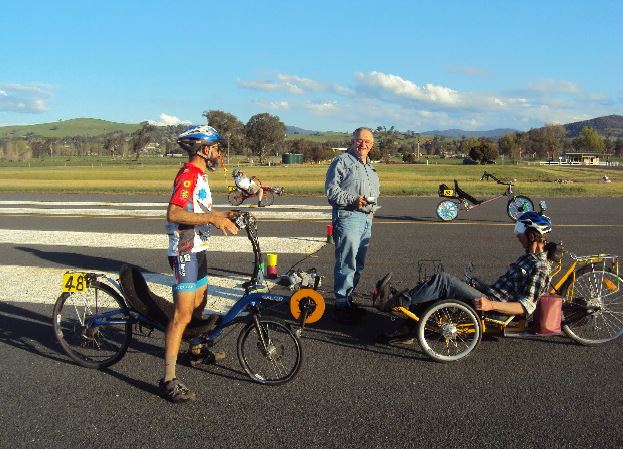 leaving.
There were 2 races on the Sunday, and they were a 20k road race with a timed "special stage" which was a couple of hundred metre downhill stretch. There was very little equipment involved (2 stop watches). We all started the longer race at the same time and George drove ahead to Marshall at the turnaround point. Lloyd, Graham and Andrew were ahead of me and Damian and Aki a bit behind. Aki was last over the line but it was a very good effort for him, he had never ridden over 20k on the bike before. Everything was over by about 11am including the presentations.
Now (drum roll please) for the results.
2014 OzHPV Challenge Results
Criterium

Tarmac Race

Giant Slalom

Shopping Race

Airport Sprint

Sunday Sprint

Sunday Time Trial

Total

Max

Adjusted

Final Place

Name

Vehicle

Place

Place

Place

Time

Penalty

Total

Place

Time

KPH

Place

Place

M

S

KPH

Place

Andrew Stewart

Performer
Lowracer

1

1

2

105

5

110

3

15.4

46.91

1

1

32

20

35.26

1

10

3

7

1

Stephen Nurse

iLean Trike

4

3

3

82

5

87

1

19.3

37.27

4

4

47

40

23.92

4

23

4

19

3

Damian Harkin

Challenge
Hurricane

5

5

1

56

40

96

2

20.2

35.59

5

2

58

19

19.55

5

25

5

20

4

Lloyd Charter

Trike #7
Homebuilt

3

4

6

130

0

130

5

19.4

37.13

3

4

46

36

24.46

3

28

6

22

5

Graham Signiori

Optima
Baron
Lowracer

2

2

3

115

0

115

4

17.9

40.31

2

3

35

16

32.33

2

18

4

14

2

Aki Kubota

Fwd
Recumbent
bike

6

6

5

152

0

152

6

23.8

30.21

6

6

60

6

18.97

6

41

6

35

6
Attendance at this year's Challenge was small but everybody who came enjoyed themselves, with good company, good weather and spectacular scenery all helping. I think I've done my dash as the main challenge organiser for a few years but long may the Challenge grow and prosper. Its up to you to turn up!
Steve Nurse.
News

A new committee was elected in November 2014:
President - Pete Heal
Secretary - David Cox
Treasurer - Duncan Cleland
Committee:
Paul Riggs (HUFF Newsletter Editor), Peter Mathews - Major Event helper, Public Officer - Andrew Stewart (Web Page Wrangler).