Records
OzHPV Inc. is an affiliated member association with the World Human Power Vehicle Association. As such, OzHPV is the sanctioning body for Australian WHPVA records. Any HPV records being claimed as "Australian Records" go through a process and follow rules set down by OzHPV Inc.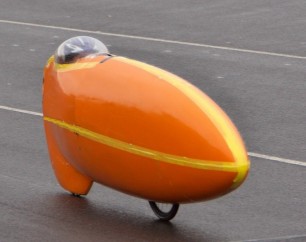 Persons attempting any Australian records should contact the OzHPV committee at least a month before their attempt providing full details of the attempt and location etc.
Equally, for a record to be ratified by OzHPV for Australian records and subsequently WHPVA if it is a World Record, full details must be provided within a reasonable time to the OzHPV Committee.
Click to download rules.pdf or rules.rtf. The rules are designed to be compatible with WHPVA's requirements.
You may also like read Ray Peaces' fascinating article (PDF 1.37 MB) on Lachlan Thomson's attempt in 1984.