Events and Rides
OzHPv Inc. organises and co-ordinates a wide range of events involving human powered vehicles:
Challenge - OzHPV Challenges consist of a series of events held over a weekend. The aggregate performance of a HPV provides a measure of it's practicality. The emphasis is on competing in everything and having a machine that will do everything. The OzHPV Challenge is ON! The online registration will be live in the next week, check back from Friday 13th Sep.
Rally - Recumbent enthusiasts from around Australia gather for a weekend of riding, racing, eating and talking.
Rides - Regular rides, generally of a social nature.
Track Racing - Fun and serious racing on velodromes or other suitable tracks.
Come and Try - An opportunity for newcomers and experiened HPV'ers to sample a range of HPV's.
Other Events - OzHPV is also involved in HPV related events such as Solar Challenges, etc.
For information on upcoming events click here.
The Canberra Mob
Social rides are held every Wednesday morning, starting at 6:30 AM at the Acton Ferry Terminal. It's an easy ride culminating in breakfast in civic at 7:30. With most participants being retirees breakfast can linger.
The Canberra Mob also holds a semi-regular ride on the first Sunday of every month. Check the Canberra Mob E-mail list for details.
Geelong Recumbent Riders
The Geelong Recumbent Riders meet at the Belmont Criterium Circuit, Geelong, on the first Saturday of the month at 9am.
Sydney Recumbent Riders
The Sydney Recumbent Riders meet on a regular basis for an easy, social 20-50km ride usually starting from Armoury Wharf Cafe, Newington at 9am.
Dates can vary but are usually set for the middle of the month. Best to either email Dom
(treasurer@ozhpv.org.au)
or check the OZHPV Facebook page
here
for more details.
Adelaide Recumbent Riders
Adelaide Recumbent Riders is a group of likeminded people who take a more laid back approach to cycling. The group has access to many wonderful well maintained cycle share tracks in and around Adelaide as well as the South Coast and the Barrossa Valley.
Adelaide Recumbent Riders have a Facebook page
here
for more details about their upcoming rides.
Brisbane Recumbent Riders
Brisbane Recumbent Riders have a Facebook page here for more details about their upcoming rides.
Perth Recumbent Riders
Perth Recumbent Riders can be reached via Facebook here .
Strava
OzHPV has a Strava club - join here.
2020 OzHPV Rally - Myrtleford Victoria 11, 12 & 13 December
Three days of rides, banter, fun and everything Human Powered.
Information sheet for rally available to view here
2021 OzHPV Challenge
The 2021 OzHPV Challenge is planned for Saturday 6th and Sunday 7th March 2021 in Geelong, Victoria.
Location: Belmont Criterium circuit, Geelong.
More details closer to the event.
Recent Events
Myrtleford Rally and AGM Weekend - Dec 2011
Ride Report for OzHPV Howlong Bakery Ride 3-Jan-16
A cool, humid morning with an overcast sky greeted riders as they arrived at Howlong Bakery for the inaugural OzHPV Howlong Bakery Ride on Sunday 3-Jan-16. Being predominantly flat, the course is recumbent friendly as it travels anti-clockwise through Rutherglen, Chiltern and Barnawartha on quiet country roads, taking in scenic vistas of local farmlands, wineries and the Mt Pilot ranges.
8am and we're off, heading out of Howlong to the bemusement of some locals out getting their morning paper, milk & loaf of bread. The first 10km or so has a few gentle rolling hills but after that it's flat all the way into Rutherglen. Add to that mix a stonking tailwind and you end up with a very fast average speed and happy, smiling recumbenteers. Riders were certainly looking forward to the first planned stop at the Rutherglen Bakery, choc full of goodies loaded with caffeine and sugar, as unfortunately, the Howlong Bakery wasn't open for business prior to our departure.
Some time later, it was time to continue the morning's journey, leaving Rutherglen on the main Rutherglen-Chiltern Rd. The first half of this section runs past local grazing land, while the last half includes a few hills through sections of the Chiltern-Mt Pilot National Park. Fully fuelled, riders headed off into what was now a fairly stiff cross-headwind. Temperatures were still cool but starting to rise which added to the humidity. The local Rutherglen bunch was encountered 3km out as it rode past fairly rapidly on its way into Rutherglen, most probably heading for the bakery. Few cars were encountered which added to the enjoyment of this section of the ride, as did the fast descents down the hills leading into Chiltern.
Chiltern Bakery was now a sight for sore eyes and tired legs, sapped dry from the efforts of climbing the hills into town. The bakery caters very nicely for cyclists, with several bike racks outside and a full puncture repair kit sitting inside. Not to mention all that yummy goodness in the form of coffee, pasties and chocolate hedgehogs. Being closer to 10.30am, Chiltern was slightly busier than Rutherglen but the local motorists gave plenty of room and seemed quite amused (bemused?) to see such wonderful machines passing through their town.
The next section of the ride headed for Barnawartha on the route of the Old Hume Hwy. Tree-lined, this road is absolutely fantabulous to ride on. The first 2km is steadily uphill, but the remaining 7km is all slightly downhill, making for an effortless and very scenic ride. There were signs of a small bushfire about 2km from Barnawartha, with evidence of fires reaching up to the verandahs of some houses. Yikes! The decision was made to continue riding through Barny, turning left at the roundabout onto the recently sealed Soldier's Rd. This now offers a more scenic and less-trafficked route between Barnawartha and Howlong compared to Gooramadda Rd, which is frequented by grain and cattle trucks, caravaners and the odd bogan ute driver - sweet mate!
The final run back into Howlong along Chiltern-Howlong Rd is reasonably flat and ended up being fairly uneventful. Back before 12 noon, all who rode the inaugural OzHPV Howlong Bakery Ride really enjoyed riding the course and look foward to the next edition of this classic ride!
Lake Hume Weekend - November 2014
By Steve Nurse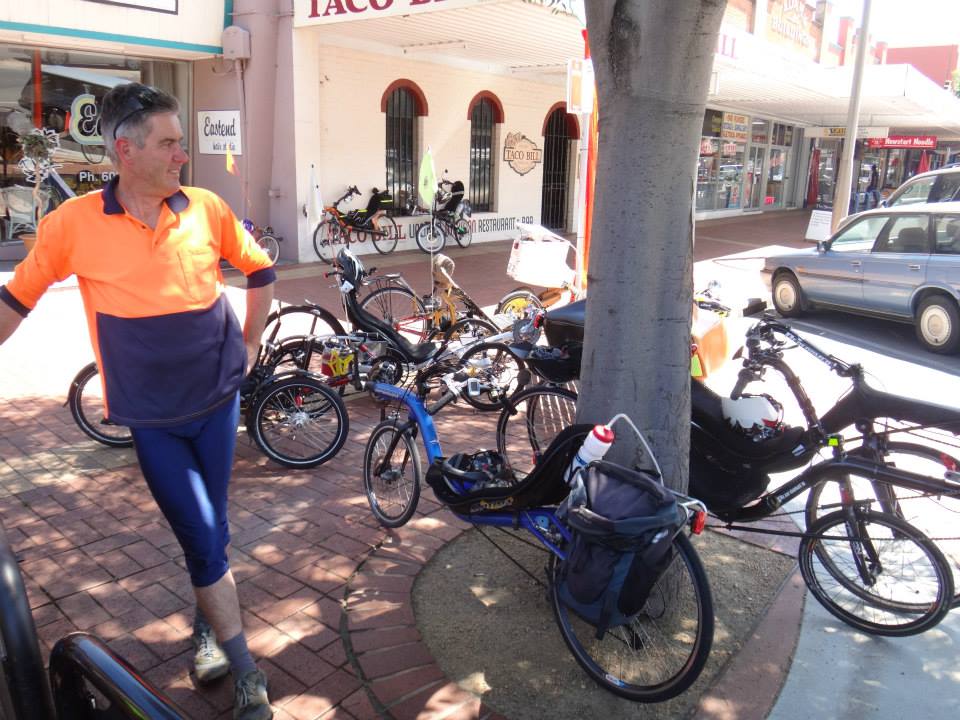 For a few days I have been back from Albury and Lake Hume, after a weekend spent up there riding my bike with fellow recumbenteers and attending the Ozhpv Annual General Meeting. I hadn't been going to go, but there was a prospiracy which made me! A few weeks before the event, I was retrenched from work, which brings with it "slightly more flexible attendance requirements", so I took the Friday off before the event, which coincided with the start of the Great Victorian Bike Ride in Albury. Of course, the GVBR completely dwarfs the OzHPV gathering, so I took an early train, hoping to avoid bike traffic on the train. As it happened, I did avoid the bike traffic, and saw and spoke to only a few early arrivees, taking their bikes up on the train.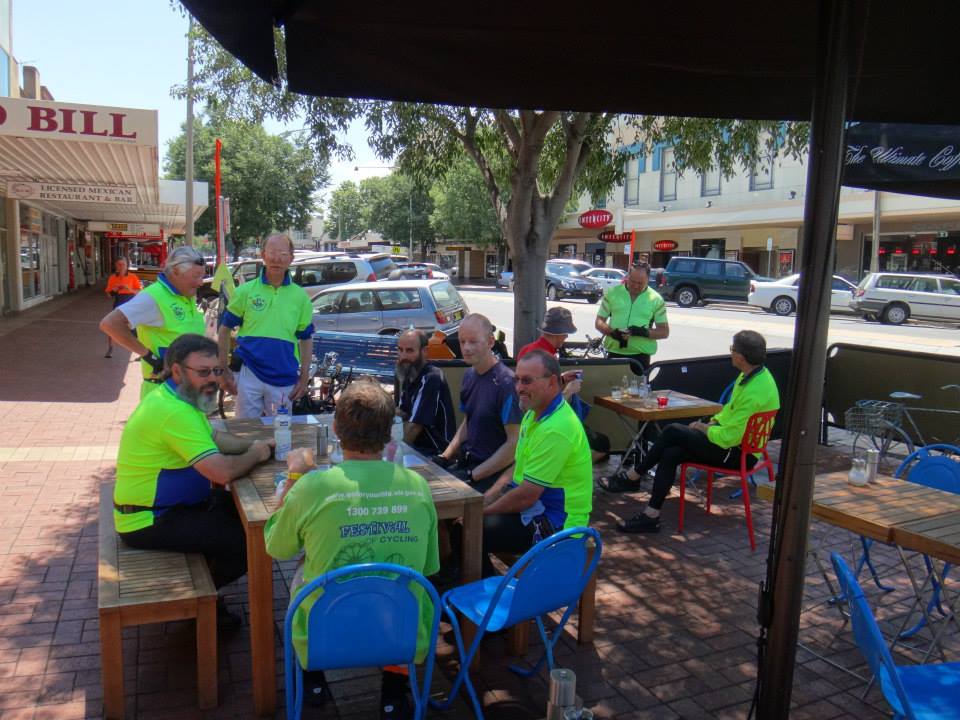 One of these was Anthony, who I'd chatted to on the way up. He is a teacher from Bendigo, had a big touring rig, and was setting out from Albury for a few days independent riding. His plan was to catch up with some of his pupils who were doing 1/2 of the GVBR, starting in Mansfield. With a bit of time to kill, I decided to ride out to Lake Hume and my camping ground with him. We parted ways at the Bellbridge turnoff but not before taking a few happy snaps.

After setting up camp just next to Graham Signiorini, Graham and I rode back in to Albury for the start of a ride organised by Lloyd Charter. A few of the Canberra mob had arrived and passed us by car on the way in, Duncan and Andrew stopping for a chat.

There was quite a big recumbent roll-up in Albury for the Friday ride, Lloyd and 3 of his triking mates, 4 from Canberra, 2 from Melbourne and 1 from Denmark! Michael was in Australia as part of a 2 year world tour, was staying with Pete Heal and had ridden most of the way from his home country.... We went most of the way round Albury on the bike tour, which was buzzing with cyclists in preparation for the Great Vic bike ride due to start in the town on Sunday. There was a 1k long encampment on the Murray full of bike riders, and we even saw the occasional recumbent.

Graham and I rode back to Hume village, I was slowing down by this stage but Graham pushed ahead quite quickly, waiting for me every now and then. I arrived at camp and waited for Graham to follow - and waited - and waited. Eventually he wheeled his bike in, and had come across some bindy-eye or other pestilent puncture promoting flora, and had 4 punctures and had fixed 3 of them. He worked on the extra puncture a bit later, eventually fixing it just before we were to head off the next morning.

After breakfast the next morning, I lathered on sunscreen, having copped a bit of sun the day before, and Graham and I headed out with Pete Heal and caught the rest of a recumbent mob across the river in Victoria. It was really nice riding on good undulating roads and we passed several groups of Albury upright cyclists off for their 60k or so constitutional Saturday rides. My bike is quite good at bombing down hills, and on a ride like this you get to compare its characteristics with other recumbents. It's nice to think its fast because its aerodynamic, but it could be that me and my bike are both heavy as well!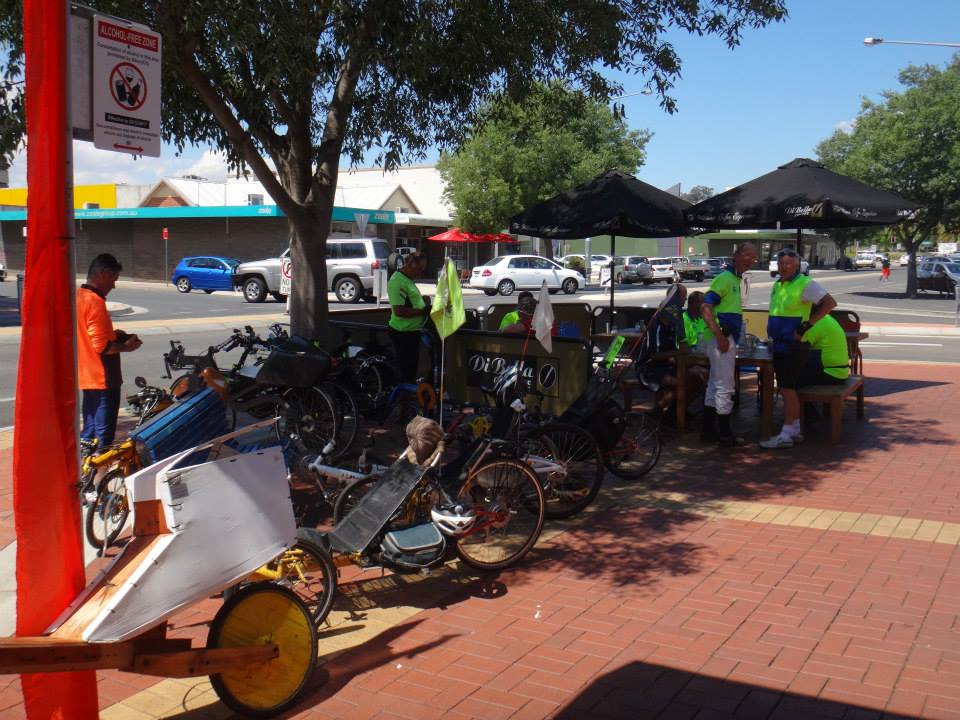 After a while we hit an unsealed section of the road which had all the evils on it, bumps, drifts of sand, corrugations and hills. Yes, I walked up some of it, this sort of road and my front wheel drive wooden bike being somewhat incompatible, the front wheel slipping and being slightly bothersome. Anyway, that road changed to bitumen again and the riding got smoother with great views over Lake Hume and its abundant birdlife towards Tallangatta.

Lunch in Tallangatta, and the Op-Shop was busy and the bakery crowded with motorbiking, recumbent biking, and road biking - daytrip mobs. Standing room only outside the bakery and I bought a plate at the Op - Shop and "The Branch Line, a History of the Wodonga-Tallangatta-Cudgewa Railway" by Lloyd Hughes at another shop.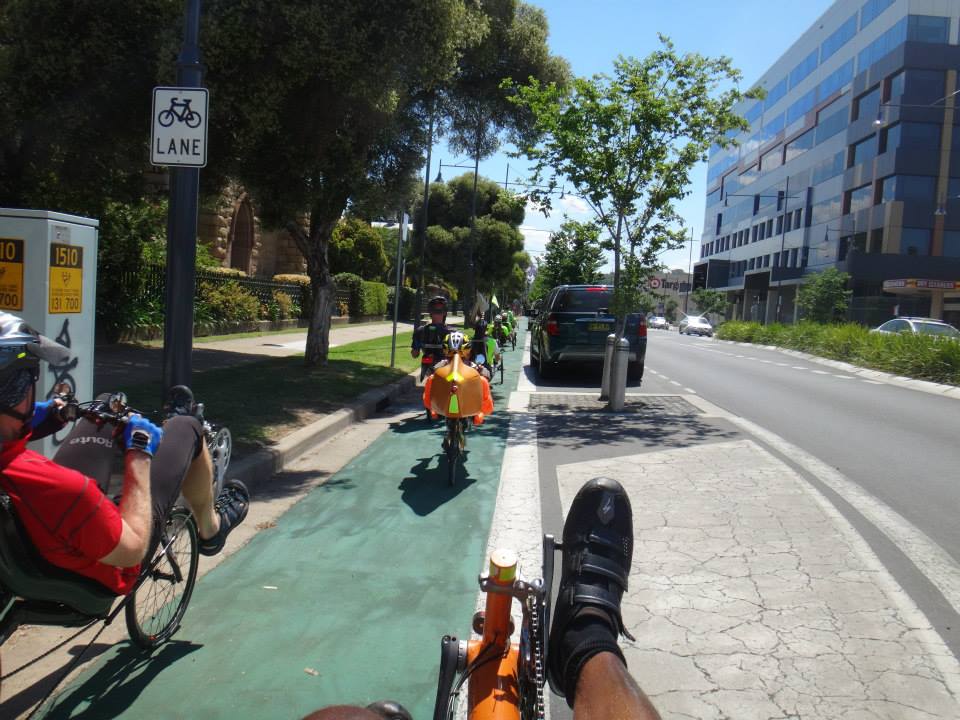 We went on the rail trail a lot of the way back and that was a bit hot and bumpy, Chris Curtis being jolted off and copping a gashed elbow at one point. We regrouped and refuelled in Ebden and from there it was a short ride across the Hume Dam back to the Caravan Park. The day's ride was only about 80k but a bit hot and demanding. A few of us had a swim, almost everyone had a sleep, and the OzHPV AGM was at 6pm. Up early the next morning to pack the tent and get on the 6:30 am train back to Melbourne. It was warm already at 5am when I started riding, and had plenty of time for the train.